State Museum of Culture History of Uzbekistan is in the structure of Samarkand State United historical-architectural and art museum. It is one of the oldest museums of Uzbekistan founded in 1896.
During its existence, thousands of unique exhibits were added to the museum funds that have specific cultural and historical value. The structure of the State Museum of Culture History of Uzbekistan in Samarkand has five thematic departments: history department, department of art, department for permanent and traveling exhibits and department of archeology, ethnography, applied arts, numismatics funds, and marketing department.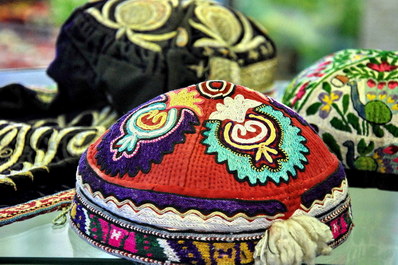 Here you can see stored jewelry pieces of bronze age, Zoroastrian assuariys and worship items, chess of 8th century, few thousand of original paintings of well-known Uzbek artists from the beginning of the 20th century, and tragically famous film of M. Kayumov 'Opening the Tomb of Tamerlane' that was shot on the eve of the WW II in 1941.
The museum possesses very rich collection of antique and medieval ceramics, metal and glass, and also ganch décor. The numismatics fund of the Museum of History of Culture of Uzbekistan has collected more than 30,000 coins not only from the times of the first states of the Central Asian region, but also from around the Black Sea territories, Ancient Greece and Ancient Rome. Among the rare exhibits there are three silver cups of 5-6th centuries found in the settlement Chelek in Samarkand.
Ethnographic collection has about 20,000 items of national clothing, gold-embroidery, and carpets mainly of 19-20th centuries. Here you can find engraved knives and metal dishes mostly from Samarkand craftsmen.
The Samarkand Museum has a big pride in the globe made by Khojent educator of 19th century Khodja Yusuf Mirfayazov.From 1978 to 2010, the Museum of Culture History of Uzbekistan in Samarkand was located in the special constructed building on the famous Registan Square. From 2010 in accordance with the government decision the museum had been moved to the Ulugbek street. For few years, the museum had been on maintenance works and on 1 September 2014 it had its official opening.